Tracking the health of businesses these days means having important metrics about those businesses readily available in order to ensure things are running smoothly. Evaluating the financial health of a company helps keep things on track and allows business owners and managers to see and react to any problems as soon as they arise.
There is a wide range of high-level metrics that field service businesses should be tracking, such as the number of work orders opened month over month, service billing month over month, and more. Metrics help paint a picture of how a business is trending, and if it's not trending as expected, it might be time to act.
But where should you start when it comes to tracking your company's field service metrics? Here are four steps that every business leader should take:
Step 1: Track and measure everything.
Reports are the first step to gauging the financial health of a company. If it can't be tracked, it can't be understood. To make the most of your reports, businesses should set attainable short-term goals, measure against them constantly, and spend time improving metrics in order to reach those goals in the future. If the objective is to increase profitability, your first step is to determine your current profitability, then set a realistic improvement goal and get stakeholders together to devise a plan to reach it. Any good field service reporting software will give you access to canned reports such as customer reports, equipment reports, contract reports, sales & profitability reports, and others along with the ability to create custom reports specific to your business or organization.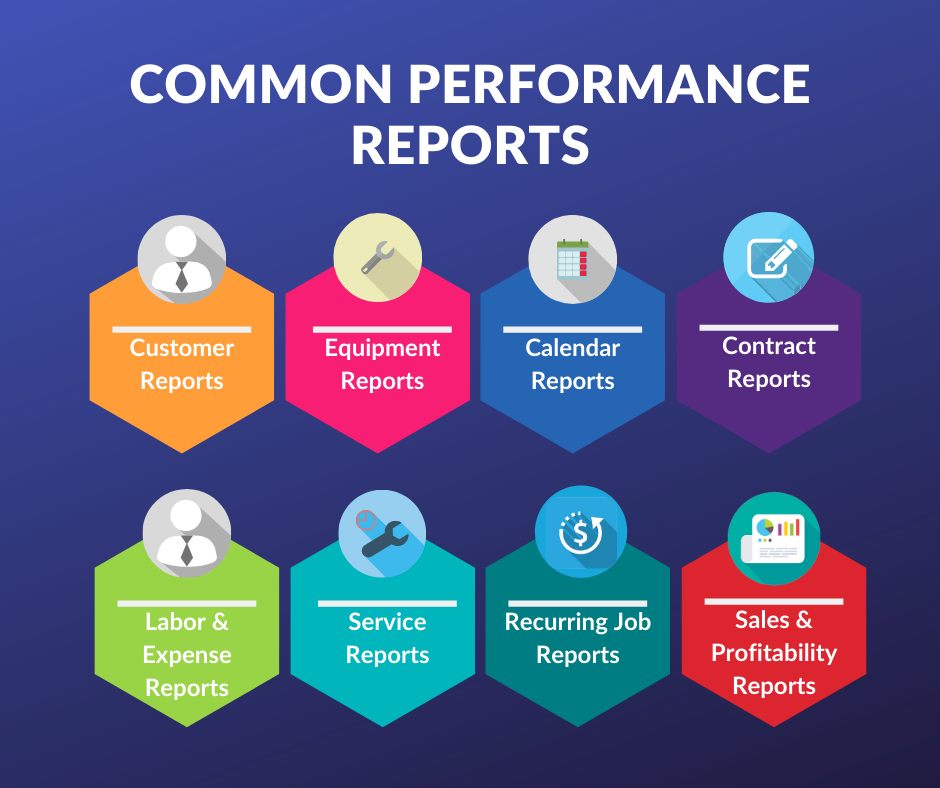 Step 2: Evaluate contract profitability against costs.
Avoiding contract losses is one of the best ways to maintain the financial health of a company.Labor, materials, and travel can all be expensive, and those costs need to be considered when devising a field service management strategy. Accurate reports must be kept to measure against contract terms and job bidding to ensure your company isn't losing money on jobs.

RELATED: HOW TO BOOST EFFICIENCY WITH A DIGITAL WORK ORDER SYSTEM
Step 3: Ensure information is shared across the entire team.
It's important that companies avoid "tribal knowledge," or knowledge that isn't shared throughout the entire team. Its cost might not be as quantifiable as the cost of labor or materials, but it can have just as serious of an impact on the financial health of a company because it impedes a team's ability to centralize communications.

BlueFolder's field service software can ensure that all information about a particular job or customer is easily accessible to the team. This keeps everyone on the same page so no vital detail is lost.

Not everybody needs access to all information, but sharing the right data, such as historical customer information, is essential. Without historical customer information, managers can't analyze labor costs in real time, salespeople can't make accurate bids, and tech and office staff lose contacts. Shortcomings like this limit a company's ability to schedule new jobs, estimate project expenses, and deliver what was promised. 
Step 4: Evaluate cash flow and automate accounts receivable.
Every business needs to get paid, but not every business has the right systems in place to ensure it happens in a timely fashion. Invoices need to be clear and complete, and they should be automated. BlueFolder software sends work orders as invoices to accounting software like FreshBooks, QuickBooks®, and Xero. It takes human intervention out of the equation. Information flows seamlessly and accurately to ensure customers are billed correctly and promptly, which, in turn, provides a quick and efficient cash flow.
CASE STUDY: Learn how Hydroworx, a therapy pool builder and installer, centralized communications, and decreased "status check" communications by 80%.
Putting the right structures in place is an essential first step toward determining the financial health of a company. Metrics can provide the first warning sign of any problems so they can be quickly dealt with. Costs and goals need to be tracked and checked. Information should be available to everyone to streamline organizational design, and accounting processes must be automated to speed up company cash flow. These are the secrets of an effective field service management strategy.
See how BlueFolder's field service management software can help your company track metrics and streamline processes at your business.