Level-up your service
organization today.
Track all your service data in one easy-to-use system, enabling your team to move faster and generate more revenue for your bottom line.
Maximize technician productivity with intuitive field service software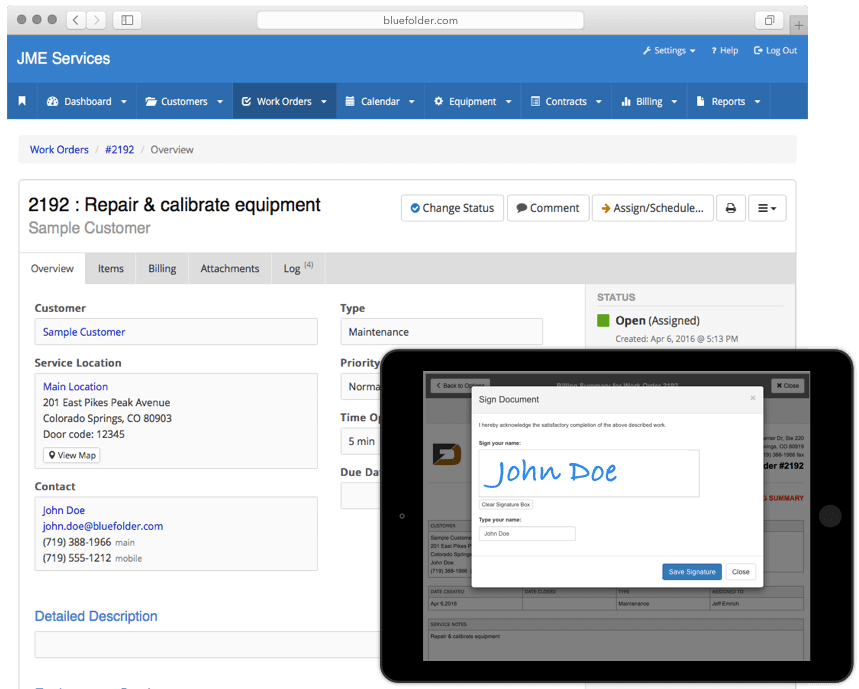 Work Order Tracking
Track work orders from creation to completion, with assignments, status, detailed audit logs, job costing, custom fields, and more.
Dispatch & Scheduling
Use team scheduling & dispatch features to ensure your techs are in the right place at the right time. Sync with Outlook or Google Calendar.
Asset Management
Keep track of the equipment/assets you service. Attach before/after photos, user manuals, etc. Accurate service history per equipment item.
Assignments
Assign work orders to technicians for completion. Track assignment completion status. Support for multiple assignments per work order.
Recurring Jobs
Setup recurring jobs and let BlueFolder eliminate the tedious process of tracking repetitive work.
Signature Capture
Record customer acceptance of completed work with their signature. Works with smartphones and tablets.
Customization
Powerful customization options let you tailor BlueFolder to fit your needs. Custom fields, access controls, optional features, and more.
Notifications
Keep your team in sync and your customers informed with powerful email/text notifications.
Detailed Logs
Know who did what, and when. Detailed logs keep you in the know and help your whole team stay accountable.
Increase service satisfaction with powerful customer management features like notifications and a customer portal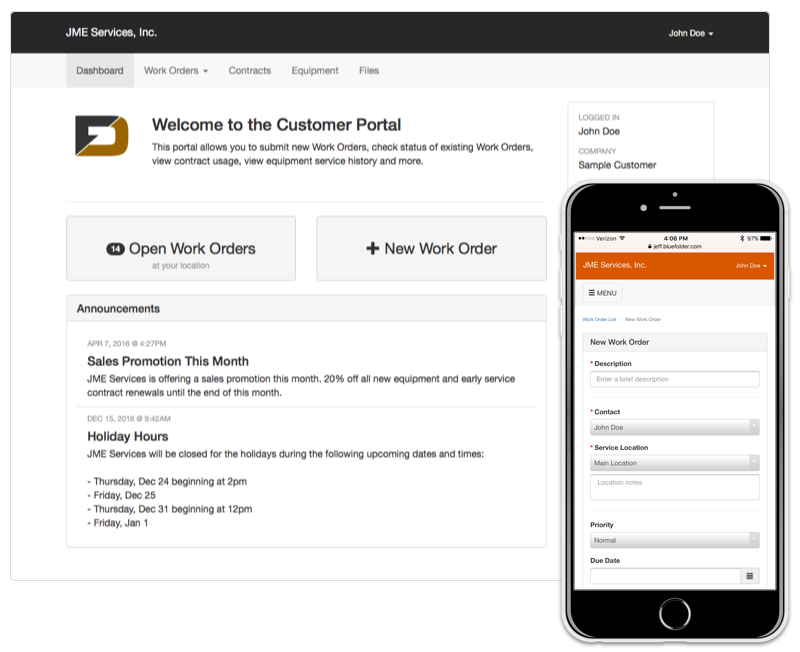 Customer Portal
One of our most popular features! A powerful, secure, self-service portal where your customers can create work orders, track status, and much more.
Service History
Super-fast access to customer service history makes your team shine when customers call. Your customers will be impressed with how organized you are.
Email Automation
Notify customers of job status, comments, appointments and more. Customers can reply to notifications and their comments are added to the system to keep everyone in the know.
Contacts & Locations
Keep all of your important customer information organized and secure. Flexible enough for corporate client information with multiple contacts & locations.
Equipment & Contracts
Manage your customer's equipment and track service contract obligations.
Import / Export
Import records from other systems and files. And your data always belongs to you, so export it for peace of mind anytime you want.
Accelerate your service billings, get paid faster, and grow your business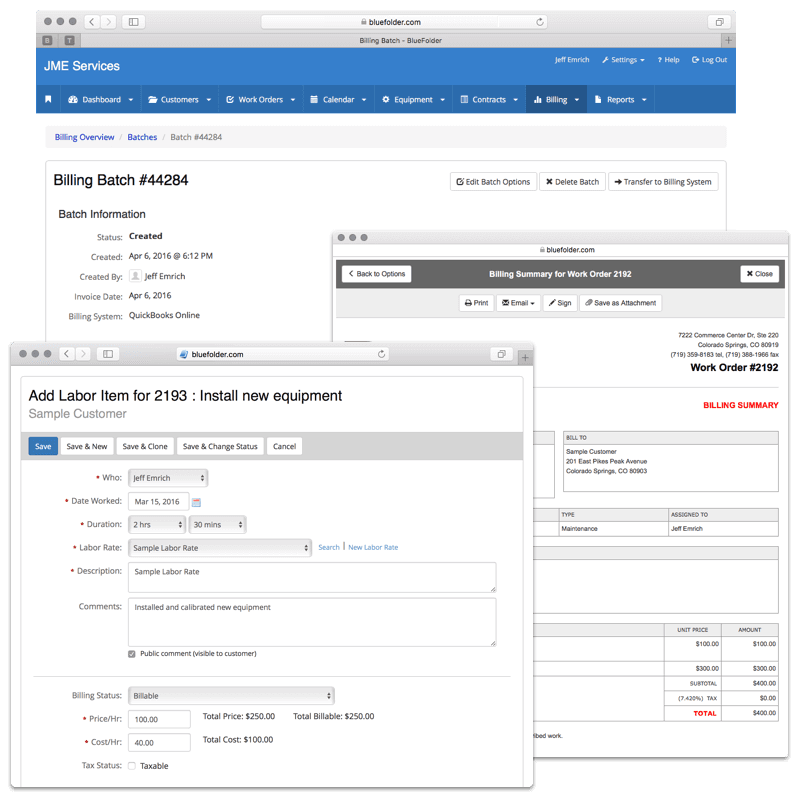 Track Billables
Record billable materials items, labor activities, and expenses, for accurate, complete billing.
Contracts
Manage service contracts and record billable activities against contract balances.
Reports
Robust reporting tools make it easy to keep tabs on your business and maximize your growth!
Why Companies Choose BlueFolder
Easy to Use
Ease of use and a fast interface are our secret weapons.
Customizable
Work the way you want with settings, custom fields, and more.
Feature-Rich
The right mix of powerful features – without clutter or confusion.
Great Support
Friendly, accessible support to help you get up and running quickly.
Trust Our Experience
We've been making field service software for excellent service organizations like yours since 2005!
Over $4 Billion
Billable Services Tracked
Industries
Hundreds of companies in multiple industries worldwide trust BlueFolder's field service management software to run their service teams.
"I have found your company to be outstanding in service and customer care. So many services promise so many things; Bluefolder actually delivers! Thank You for helping me run my business better!"
Jeff Tingley
Sparkle Services
"My experience with BlueFolder has been phenomenal. It is very user-friendly, easy to search and track work requests, simple to input data, and send alerts and announcements to all our personnel spread throughout the country. Please keep up the great work you do for us! You are Awesome!"
Marcy Mahnaz
UTSS
"We've used it for two years, have 30 techs, and love it. Creating work orders is super fast and easily searchable afterward. Customer service reps are fast and friendly."
Jeramy Harstad
Northwest Electric Solar
Ready to see how BlueFolder can help you?
Schedule a free, personalized, live demo with one of our product experts.