What is Work Order Management Anyways?
Before we talk about how a digital work order system can boost efficiency, it's important to first understand what a work order actually is. In every industry, the purpose of a maintenance work order system, work ticketing system, or work request process (all three being very similar) is generally the same: to provide visibility into all of the components that make up the work life cycle — labor, materials, comments, scheduling, work tracking, and other important information. This allows teams to see what work has been done, what is currently being prioritized, and what work will need to be done in the future.
The work order lifecycle
Eliminating friction at each stage of the work order lifecycle is crucial to improving efficiency. What are the stages of the work order lifecycle? 
A work request is submitted via phone call, email, or using a customer self-service portal.
The work request is approved by a service manager, dispatcher, or admin.
The work is assigned to a technician or team of technicians. 
Work is completed, and the work order is closed.
The invoice is submitted to the billing department for payment processing, or customer payment processed instantaneously.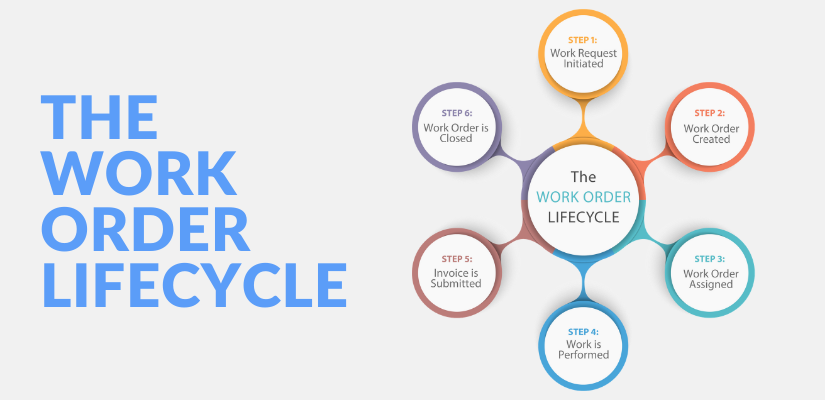 It can be a complex process, but it's a vitally important one. Organizational success depends on employees knowing what they have to do and when. And customer satisfaction hinges on the timely delivery of services. Yet despite its importance, many businesses, municipalities, hospitals, and other organizations still rely on work order management systems that consist of spreadsheets or paper documents, which are not the most efficient ways to communicate and get things done.
The Traditional vs. Modern Order Management Process
In the modern business environment, speed provides a competitive edge. The cumbersome flow of paper between technicians, managers, owners, and accounting and billing departments cuts into that advantage. Moreover, manually organizing work request forms and transferring paper documents for approval or billing purposes creates additional opportunities for something to get lost or messed up. This puts the organizations that rely on this workflow at a competitive disadvantage. 
Similarly, a reliance on spreadsheets presents its own challenges, particularly as it relates to user rights management, billing, and invoicing.
Here's an example: 
A facilities coordinator at a hospital or university is often responsible for a host of tasks. These might include coordinating work orders, managing outside contractors on specific projects, and coordinating budgeting and accounting systems, among others. If this person receives a maintenance request phone call, he has to enter the request into a spreadsheet manually and then call a service technician to make the repair. If a replacement part is needed, the technician is responsible for communicating that information. If the facilities coordinator doesn't receive it or forgets to update the spreadsheet, important information about the part needed, who ordered it, etc., gets lost. And if the spreadsheet doesn't have proper user restrictions, valuable information can be accidentally overridden. All of this dramatically decreases the response times of the facilities coordinator and, ultimately, the speed at which work can be completed.
Work order software solves these problems.
Minimizing errors with Work Order Software
A digital work order system is primarily centered on maintenance tracking. It takes all of the components that make up the work life cycle — from scheduling to assignment to completion — and consolidates them into one easy-to-access bucket.
An automated work order system makes it easy to stick to work order management best practices and maximizes employee productivity by eliminating the flow of paper documents or the need to manually update spreadsheets. It speeds up approval, billing and invoicing, and communication with contractors. Perhaps most importantly, it minimizes opportunities for human error.
In the example above, if the facilities coordinator were using a digital work order solution, he could have simply made a maintenance request through a web app rather than having to make a phone call. He could have assigned the work to a technician who could then update the status of the work, all from within the app. If new equipment was needed, the technician could make a note on the digital work order, giving everyone real-time updates on the job's progress.
Not surprisingly, digitizing the work order management process stands to benefit nearly every organization that provides services to internal teams or externally to customers.
Industries that Benefit from Work Order Management
Practically any business or organization that provides maintenance service of any kind can reap the benefits of digitizing their work management with a work order management software.
Medical Equipment Maintenance, Biopharma and Life Sciences
Work order management software is ideal for companies that service medical equipment, such as X-ray and imaging machines and equipment in dental offices, pharmaceutical labs, hospitals, and medical clinics. When work order management is digitized, it's easier to comply with patient safety initiatives enacted by the FDA and requirements for preventive maintenance set forth by the ECRI Institute.
Many regulatory agencies audit healthcare service providers to ensure equipment is operating properly. Providers that leverage a digital work order system can easily provide accurate proof of service in a timely manner. As the healthcare regulatory environment continues to evolve and become more complex, these advantages will prove more useful.
Manufacturing
Menzel Elektromotoren, a global industrial motor supplier, recently transitioned to a digital work order system to shorten response times and improve the quality of its operational processes. All of its employees now have access to a unified database containing real-time data on all maintenance work that needs to be done. This level of transparency has made the nearly century-old company more agile and better equipped to compete in the tech-driven manufacturing sector.
For Menzel and other major manufacturers, maximizing equipment uptime is paramount. When equipment is down, production stops and operators become idle or inefficient, all of which results in lost revenue. Work order management software allows for real-time reporting so operators can quickly and accurately report breakdowns to the maintenance department. It gives technicians access to equipment service histories, allowing them to quickly diagnose and repair equipment. Furthermore, it allows finance departments and executives to be proactive rather than reactive, enabling them to forecast equipment replacements and budget accordingly.
Property Management
A digitized facility management work order system is a boon to anyone who manages the maintenance in multiple buildings, whether it's a hospital, university, or apartment complex. It allows property managers to spend less time servicing requests and more time doing other important tasks.
Work order software solutions often have a user portal that minimizes the need for phone calls or emails to issue maintenance requests and decreases the need for "status check" calls or emails. Instead, staff and subcontractors can simply enter and update requests within the software.
Property managers can instantly see what work has been completed and what is upcoming or past due. Moreover, they can set automatically recurring work orders to automate preventive maintenance requests, which will ultimately extend the lifetime of equipment and ensure minor maintenance is completed, preventing more expensive repairs in the future.
Food Services and Franchise Management
Restaurants are required to keep cooking and food storage equipment in top-performing condition. As in the healthcare industry, laws mandate regularly scheduled equipment maintenance, and restaurants are subject to frequent inspections. With a digitized work order management system, managers and owners can maximize equipment uptime and easily schedule and track requests for fire and security system installations.
Other Industries that Benefit
Managed service providers in the IT and telecom industries and commercial field service providers can use work order software to record and manage incidents and help accurately set customer and technician expectations. Technicians can more easily optimize workflow processes, making them more productive and more effective.
Digital customer service agreements track hours, retainers, and all-inclusive agreements, and equipment tracking functionality updates all relevant stakeholders when troubleshooting is needed or changes to customer infrastructure are required. Plus, integrations with software like QuickBooks®, FreshBooks, Xero, and other back-end administrative and accounting solutions help to improve the billing process.
Work order management software streamlines workflows and promotes efficiency within enterprise-level organizations and service providers in nearly every industry, including:
Heating, ventilation, and air conditioning
Plumbing
Public utilities
Churches
Schools
Farms and agribusinesses
Research laboratories
Casinos
Public transport
Improving Productivity at Every Stage
With the right software, organizations will gain advantages at every stage of the work order life cycle. For example, here's a snapshot of how BlueFolder can improve productivity throughout the duration of a job:
Scheduling:Once a customer or internal stakeholder initiates a request for service, you can easily see who is available to handle the request and promptly assign it to the appropriate technician or team. Likewise, you can see any unassigned work. For recurring jobs, requests are transmitted automatically so your team doesn't have to track repetitive work.
Performance:Technicians in the field can easily record labor, materials, and other expenses associated with a job. Over the course of the project, you're able to seamlessly manage service contracts and track billable activities against contract balances. Equipment tracking tools allow technicians to quickly share and store before and after photos and user manuals and make updates to equipment service logs. Automated emails alert customers about appointments and job status changes and allow comments to be added to keep everyone on the same page.
Completion:You can digitally capture customer signatures within work orders via a smartphone or tablet to record the acceptance of completed work. Detail logs ensure you know who performed the work and when it was completed. And the information is stored in an easily accessible database for anyone who might need it in the future. Once the work order is closed, it's exported to accounting for invoicing.
Customize and Optimize for Complete Control
No two organizations are identical. Even though work life cycles are similar, details like approval, billing, and completion verification processes often differ. Fortunately, BlueFolder's work order management software can be tailored to meet your organization's unique needs. We support an unlimited number of searchable custom fields so you can track and find all data that's relevant. You can even customize a work order's status color and enable or disable features built into the customer portal to suit your preferences.
In the digital age, a growing number of companies are going paperless, and for good reason. Traditional work order management processes leave too much room for error — whether it's lost or forgotten work orders, requests that aren't processed properly, or time lost while waiting for work order updates — all of which can translate into lost revenue.
Unfortunately, many organizations have never taken the time to assess their work order management system, oftentimes because they don't know where to start. If this sounds like you, we recommend that you gather all relevant stakeholders and have them map out an ideal workflow. It can be as simple as completing the statement "It would be great if…"
You won't get ahead by maintaining the status quo. Once you've identified the problems you're facing, you can begin exploring the digital work order solutions that will help you fix them. Find one that's adaptable to your specific needs and try it out. You'll eventually wonder how work ever got done without it.
If you would like to learn more, contact us at BlueFolder. We can answer questions as you consider upgrades to your work order management system, or request a demo of our services today. We're here to help.