It's been a long time since you asked, "What is a work order?" Maybe back in your first few days in the field services industry, you needed an introduction to the formal documents that define maintenance tasks and capture important details about each job. Today, it's second nature to you. But take some time and ask yourself again, "What is a work order?" Look beyond the surface details and think about what it means for your business.
What is a work order?
For a customer, the work order is their formal request for services. It's the start of your interaction and the main vehicle for communicating the requirements of the job. Customers don't want to spend tons of time submitting work orders, and they don't want to wait until office hours to make the request. They want an easy process they can access at any time, and they want to know that once that request is submitted, your team is gearing into action.
Technicians are out in the field, racing from job to job. They rely on work orders to provide all the information they need for a successful service call. It may include the location, time, and work description as well as supplies needed, part numbers, access instructions and more. Technicians don't have desktop computers, of course. They need work orders that are easy to find, easy to read, and reliably contain the most recent information.
As the record of every job, the work order drives your business. It's the channel for jobs coming in from customers; it's the instructions for executing the work; and it's the basis for sending invoices. These forms are essential to your success, which is why you need a robust, efficient, and reliable work order software for managing them.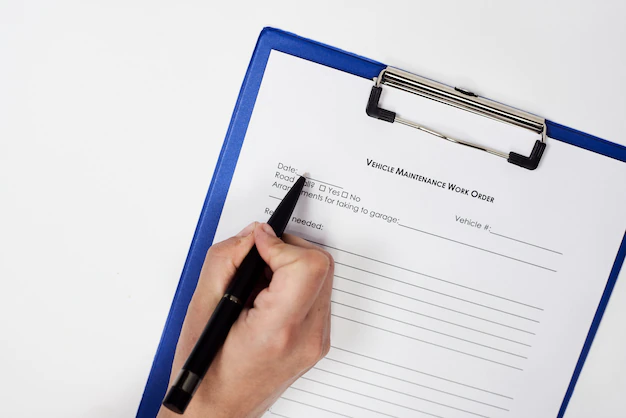 If your work orders still look like this, it might be time to implement work order processing software and bring your work order management process into the 21st century.
What is the process of a work order?
A work order process is a system designed to ensure accountability and timely delivery in each step required to complete work requests, from the initiation to the invoicing stage. In order to optimize work order process efficiency or to identify and resolve work order concerns, it is necessary to understand each step of the work order process.
The stages of a work order process typically include the following:
1. Initiation
A work order starts with a work request that contains a description of the work needing to be done, the customer information, contact person, location of the job, billing information, priority levels, deadlines, and account manager.
More specific details and attachments should also be included in the work order, such as images of any equipment to be installed or serviced, serial numbers, and detailed descriptions to avoid potential servicing errors.
2. Planning
When creating, approving, and giving priority status to the work order, ask yourself these questions when choosing the right persons for the request:
How many people are needed to finish the job?
Where is the field location?
Which technician is in the closest proximity?
What skills and expertise are required for the task?
Which among the field staff is available for the scheduled work?
If you do not have any available field technicians, or the service request needs capacities that are beyond what you can presently offer, consider hiring trusted external contractors.
3. Dispatch and Scheduling
Once you've chosen the right technicians, use the dispatch and scheduling features in your field service management software to assign the work order. Monitoring assignments on a centralized schedule or dispatch board helps you keep track of equipment maintenance, service appointments, and overall visibility over your technicians' schedules. It will also help you avoid double-booking and manage customer expectations better.
4. Fulfillment and Execution
The execution stage is when the Field Service Engineer (FSE) or technician fulfills the task outlined in the work order. FSEs should know what the job entails, the required parts or equipment, and the reference materials to use in case they need it to complete the job efficiently and successfully.
Monitor and record how long it takes to complete every task, keeping your team in the loop at all times and cutting down forgotten minutes. Ensure communication lines among your back-office personnel, managers, and field techs are open throughout the entire process to effectively implement quality assurance.
5. Review or Verification
The review stage is where your non-tech personnel checks and compiles the billable charges and verifies all the information's accuracy before issuing an invoice.
Accomplish your work order charges review as the job nears completion, so managers or team leaders have enough time to reconcile the data, check for errors, and ensure the total numbers' accuracy. Some projects with many moving parts can be difficult to calculate and verify. Use a work order management platform with accounting software integrations to review and validate your billable activities more efficiently.
6. Billing and Invoicing
Once the FSE completes a work order, it enters the closeout phase and will be ready for invoicing. As long as the closed work order has gone through the proper checks and balances throughout its life-cycle, issuing an invoice will be quick and easy.
Attach a duplicate of the work order to your customer's billing statement. File your copy of the invoice to the customer's folder in your contact database, so you can trace your transactions history efficiently when needed. You should also confirm with your customer if they'd like to keep the same billing address (whether email or otherwise) and mode of invoice delivery (electronically or printed).
Here's a helpful infographic that illustrates the work order process.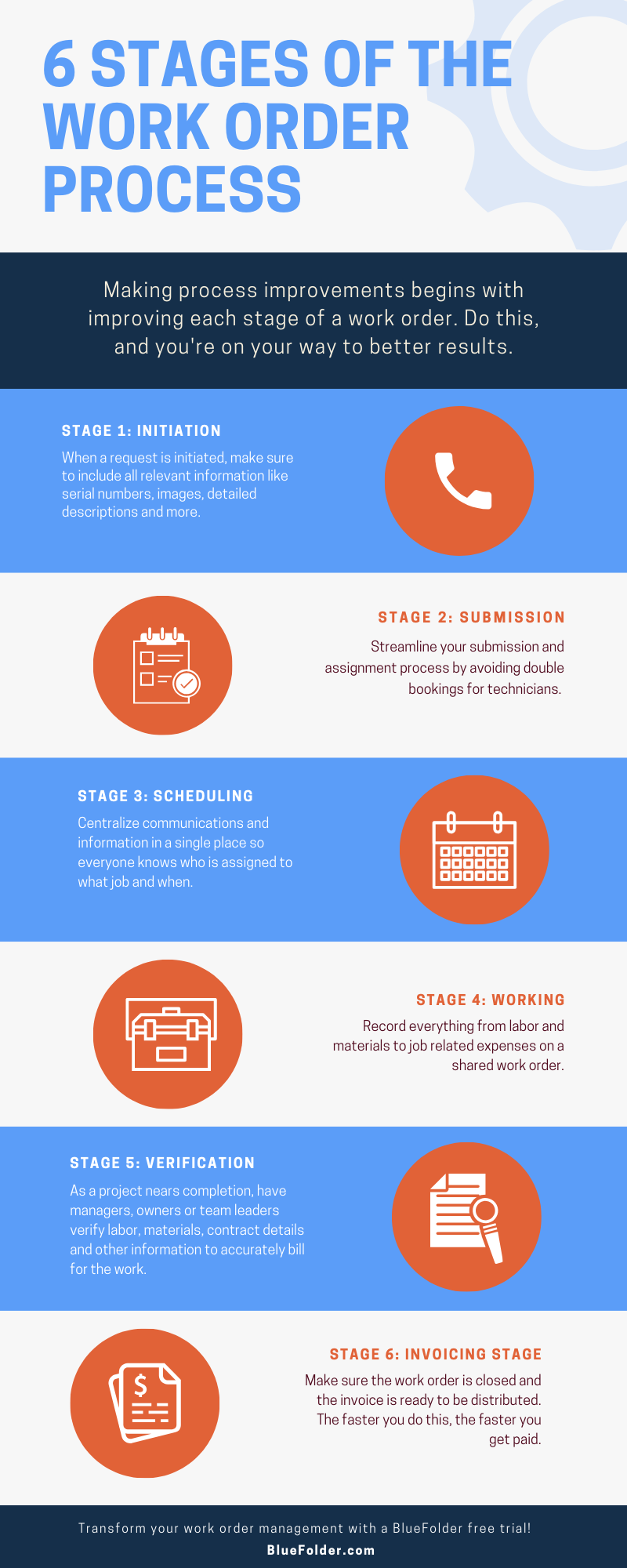 What is work order management?
Work order management is a system of defining, assigning, tracking, and billing jobs and/or service contracts.
1. Defining the work
Work orders may be one-time jobs, recurring jobs, or involve managing service contracts. Service contracts usually include blocks of hours, pre-paid amounts, or warranties, and they often specify expiration dates. With BlueFolder, business owners can quickly view the full lifecycle and history of work orders as well as the details of associated service contracts. The software also offers customers access to a customer portal, allowing them to see the details of their contract or open work orders. This type of transparency is a huge competitive advantage for businesses using work order tracking software because customer loyalty increases when all parties are on the same page.
2. Assigning the work
With BlueFolder, it's easy for scheduling personnel to divvy up assignments to the right technicians and communicate all pertinent work order details. When technicians know which work order should be associated with labor hours, material costs, and other expenses, business owners don't have to worry about costs appearing at the end of a billing cycle that were never accounted for. That means more revenue and better profit margins.
3. Tracking the work
Tracking work over the life of a job or service contract can be tricky with manual methods, particularly when multiple technicians are involved. For Craig Hickman, vice president of sales at ProBleu, relying on BlueFolder improved tracking accuracy and yielded a 60% upswing in billings. Before, work orders would be serviced and closed without being recorded, meaning clients got free work. Because BlueFolder accurately tracks contracts and provides an important audit trail, companies can ensure they're billing clients the correct amount. As Hickman put it: "I wish I would have started with BlueFolder earlier. I missed out on a year of savings."
4. Billing the work
With manual contracts, it's easier for billable charges to slip through the cracks, costing your company valuable revenue. BlueFolder keeps contract details updated and makes them visible to both service businesses and their clients, ensuring that neither party gets an unexpected surprise at the end of a billing cycle. As an added bonus, customers pay invoices faster when the bills are easy to understand.
What are the benefits of a work order management system?
Field services management (FSM) software ensures that your critical work orders are handled quickly, easily, and correctly.  Handling work orders through an FSM software reduces errors, frees labor hours, serves customers faster, and speeds payments. The application can also be customized to follow your preferred workflow and procedures.
Streamline work order submission and approval.
Since the work order is your main channel for new business, you want it to be as easy as possible for customers to submit requests. With an FSM system, you can offer online forms that customers can fill out anytime from anywhere. Technicians or salespeople can even submit orders from the field if needed.
Once an order's in the system, your managers can follow up, add important details, approve, assign, and schedule the work in one place. Even complex jobs are easier to manage. One work order, for example, may have several technicians and several scheduled assignments depending on what needs to be done. Instead of keeping track via paper or spreadsheets, you handle complex work orders in an FSM software with a few clicks.
Less manual labor means fewer errors, less lag time between work order submission and work completion, and lower costs. You can even update multiple records at once and create recurring work orders automatically.
Keep the team updated.
With an FSM system, everyone on your team sees the work details and status. A dedicated portal offers status information to customers, so they don't have to call or email for information. When techs are working on a job, they have access to the most recent work order, so they won't miss a late change. Also, as they complete the work, they can add notes, status changes, and photos to the record through a simple mobile interface. You and your customers never wait for updates.
Integrate with other systems.
When you have a different system for scheduling, billing, and work order management, it's important that those applications can share information. Otherwise, you're back to copying and pasting, making multiple data entries, or manually exporting data from one system and importing to another.
However, a modern FSM software will integrate with common business applications, such as QuickBooks® and Microsoft Outlook. Once your work order is in the FSM system, you never have to copy it to your billing system or calendars. You save time, avoid typo mistakes, and lower costs.
Keep good records.
If you're currently using spreadsheets or paper, it's very difficult to compile the information for analysis of activities and trends over time. And it's especially hard to search for specific information.
An FSM system changes the equation, keeping all information in one place and offering the ability to search quickly for details. With the reports and dashboards that FSM softwares offer, you can easily look back over a quarter or a year of work to identify high-value customers, best performing technicians, and profitability.
You may not have asked yourself "What is a work order?" in a very long time. But if you're planning to grow your business this year, it's time to appreciate how important they are and adopt an intelligent system to manage them.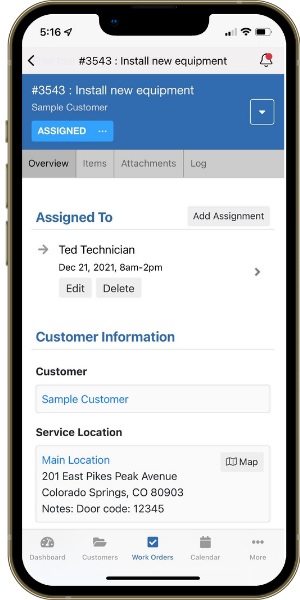 Your field service technicians and maintenance crews are always on the go. Give them a mobile work order management solution like BlueFolder to make their service calls go smoother (and faster – with fewer mistakes).
How do you manage work orders?
Field services companies have a range of strategies for processing and managing work orders. Some folks are still printing paper, passing documents through email, and copying details into the billing system. Some companies have added spreadsheets to help track and organize work order assignment and status. Business processes often grow organically as your company expands. But the more work you earn, the more tedious, labor-intensive, and error-prone, traditional management techniques become. You need a smarter, more efficient way to handle these essential business drivers.
BlueFolder makes work order management simple and effective.
BlueFolder's FSM software was designed with the user in mind. We know that your FSM system is only effective if it's easy for technicians, customers, and administrators to use, so we've made every interaction simple but powerful.
BlueFolder offers smart work order management that minimizes labor and speeds processing, so customers get work done faster and you get paid sooner. Here are just a few work order management features BlueFolder offers:
Create orders from anywhere via email or webform.
Customize workflows for your specific needs.
Create custom work order status values, automate status changes, and set defaults.
Capture a customer's signature directly into work orders to record acceptance.
Quickly integrate with Outlook, iCal, Google Calendar, QuickBooks®, FreshBooks, Xero, and more.
Easily record labor, materials, and expenses.
Attach files and links to any work order.
Make bulk edits and updates to multiple orders at once.
See for yourself how BlueFolder streamlines your work order management and boosts your team's productivity.