You're probably familiar with the quote that goes something like, "if you want different results than you're currently getting, you'll have to do things differently than you currently are to get those results." The same mantra applies to how your organization currently manages work processes.
Continuous improvement is something every business leader wants, which is why many turn to automation to save time, increase profitability, and enhance customer satisfaction. Companies that handle work orders can certainly see the benefits of streamlining operations. Understanding how to fill out a work order by including all pertinent information should be part of any workflow.
Companies considering changes to their work order management systems need to ensure that it will be accurate, and improve efficiency and customer satisfaction. It should include what a technician will need to complete the job. For instance, a comprehensive work order request should detail the problem and any other relevant information that might help the service provider begin troubleshooting the problem quickly.
Those taking customer calls should collect all relevant information to cut down on the need for questions between dispatchers, technicians, and customers. And providing accurate invoices to customers as soon as possible will help the company get paid sooner. The less friction between the stages of the work order process, the better the user experience for everyone involved.
Improving Work Order Efficiency
If your company is on a mission to sharpen your work order management, here are three strategies for your staff to implement.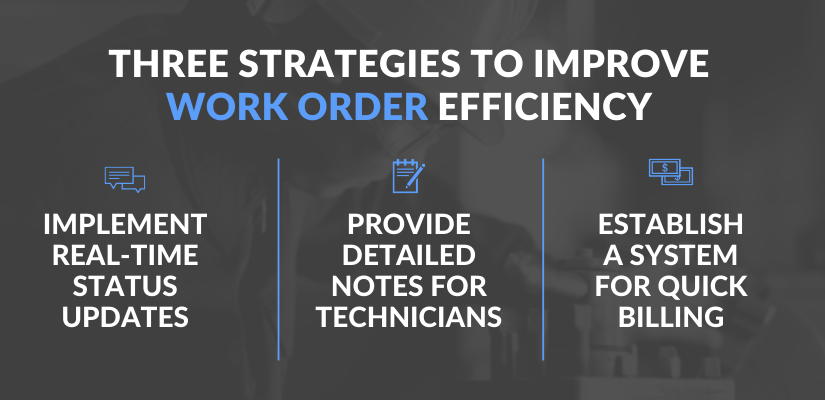 Strategy 1: Provide detailed notes for technicians.
After a work order is created, the service provider will get to work on the request. Clear communication with the customer is vital to ensure the service provider's team has all the information needed to do the job correctly. This lets the technician know what needs to be repaired, a detailed location of the assignment, and the contact person when the technician arrives on site.
It's also critical that the technician knows which parts and tools are needed so he or she can get the job done quickly. Additionally, all customer concerns can be relayed to the technician. Once all the information has been collected, the dispatcher can send it on to the technician.
Strategy 2: Incorporate on-the-job status updates.
In many instances, technicians log labor and comments on work orders. BlueFolder ensures these notes are logged electronically with time and user stamps. Time information allows everyone to see the status of each job. Is a technician en route or onsite? One glance at the work order will tell the full story. Having this type of real-time data also assists managers in compiling averages.
For example, if it should have taken only 30 minutes to drive to a job but it actually took the driver an hour according to the work order log, the manager can start asking questions and dig deeper to discover the cause of the delay. An automated work order system allows managers and dispatchers the information to analyze and identify problems and find resolutions quickly.
Strategy 3: Set up quick, transparent billing processes.
Work order problems can play a role in preventing companies from receiving payment in a timely fashion. Billing can take days or weeks in systems that require human intervention. But invoices generated quickly by an automated system provide complete transparency and can ensure prompt billing.
RELATED: LEARN HOW PROBLEU, A MANAGED IT SERVICE PROVIDER, BOOSTED BILLING 60% BY OPTIMIZING THEIR WORK ORDER PROCESSES.
Awaiting payments is a problem that many businesses face. According to figures from an Intuit study, 61% of global businesses report cash flow problems. Any good work order software will allow work orders to be processed the day the work was completed, which could help companies achieve a stronger, more reliable cash flow cadence.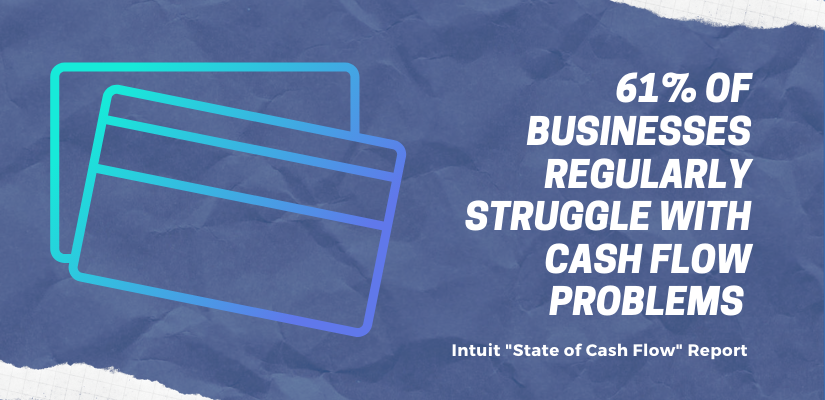 Charting a course to better work order management is vital to keep business moving along efficiently. If you think an automated work order solution is what your company needs, schedule a demo today and give BlueFolder a try. See how BlueFolder can help resolve your cash flow problems with easy QuickBooks® Online integration.